Yes, I know, Christmas was yesterday and I should be sitting and resting, but I am on a tight schedule now. I have about a month before my little one gets here. So today I cut out slips and diaper covers and something to sit and smock. I should be all set for the next couple of weeks with projects. I just hope to get them all done. I am also thinking of Easter already. I hope to get that finalized by the end of January so I can get started on them. I am thinking after the baby is born my sewing time will be cut for a while. If memory serves me correctly...
Here is a little number I finished about a week or so ago but just now getting around to sharing. All that mistletoe and cooking and wrapping has gotten in the way.
Now, I ask you, is there anything sweeter than a baby in a bishop? I don't think so! Here is a 6 month bishop smocked with Ellen McCarn's April pattern minus the flowers. Very simple but sweet. I have enough for Sydney to get a blouse out of this for Spring. I am thinking a pink skirt and a sweet blouse and they will be adorable together.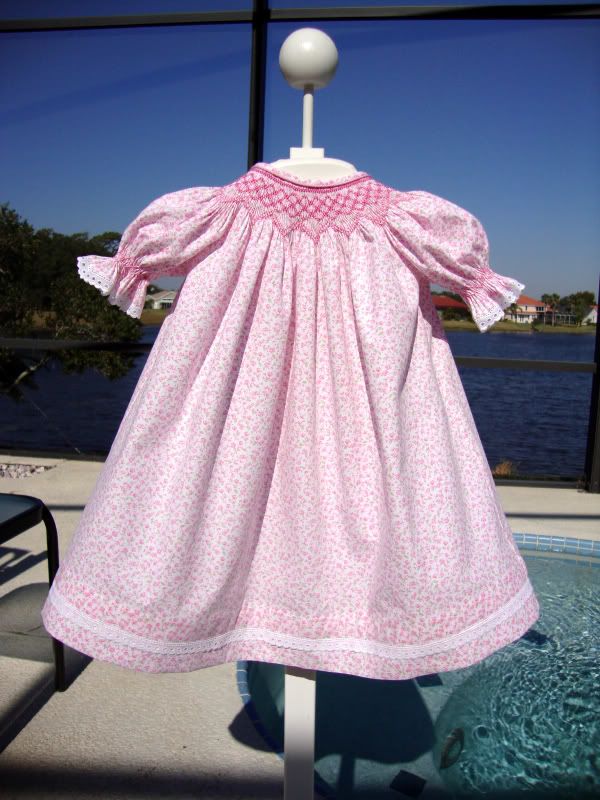 I did the eyelet on the sleeves and used it to detail the growth tuck at the bottom of the dress. I also piped the neckband with a pink gingham mini-piping. Hard to make it out in the pictures though. I need to get better at my photography skills. I am just not used to all this sun down here in Florida. Something I plan on working on to get better at in 2011.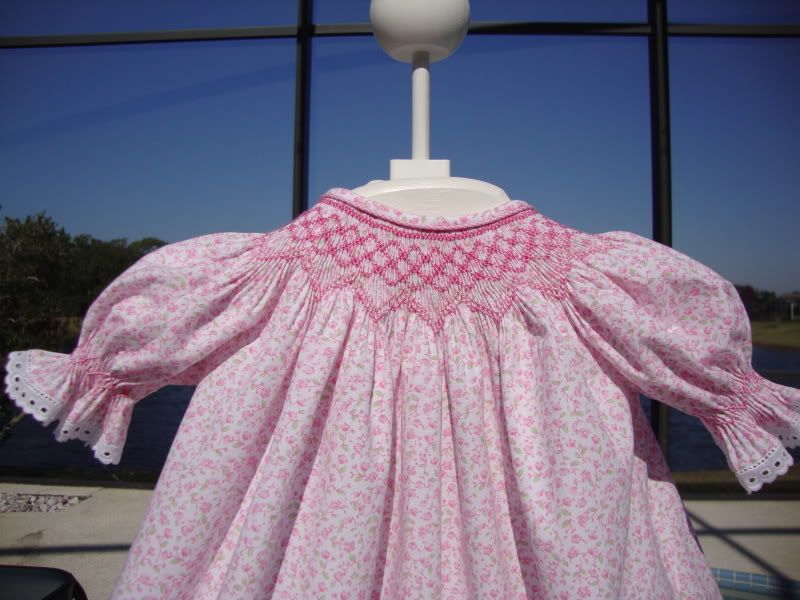 I love that bishops can be worn for such a long time. Makes all the time making them seem more worth it. Now, what to smock next? I can't sew fast enough these days. That pesky sleep keeps getting in my way! These last few weeks of pregnancy are making me very sleepy. Hope your holiday weekend is relaxing and you are getting to do what you like today.