Sydney requested orange and khaki for a Thanksgiving dress. Right now, she loves a Lucy the best. She told me that it isn't too much fabric on her legs and it swings. I have to agree with her. Those cute legs need to be seen! So I used a very girlie looking turkey on a beautiful stretch poplin fabric I had in my stash. I have yards and yards of this glorious fabric. I bought it last year when I was making uniforms for Sydney in Williamsburg. I did this jumper reversible in the same fabric. The other side has her monogram in brown.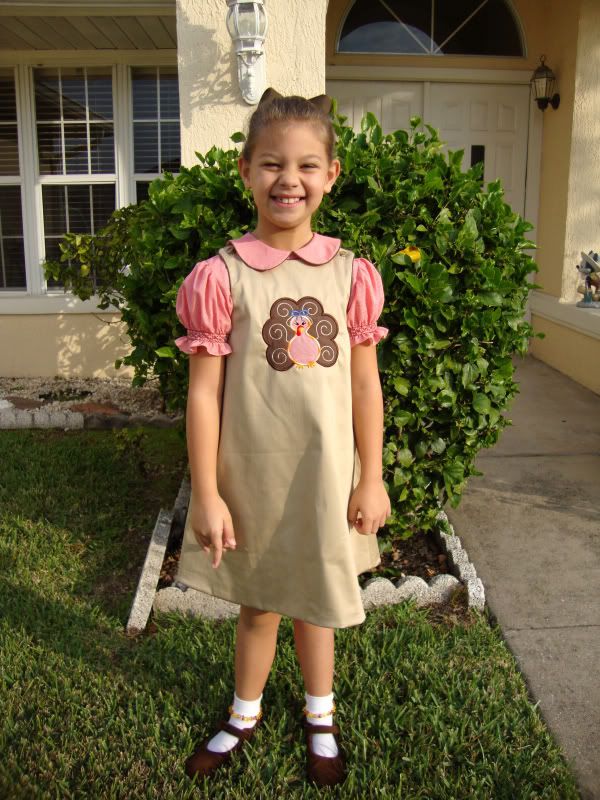 I love making matching blouses with jumpers. I love how it pulls the whole outfit together. I used the orange microcheck on Miss Turkey's body and made her a button up the back blouse to match. Sydney picked a smocked sleeve. So glad my 6 year old appreciates smocking and still wants it. I asked her, "Do you want a piped cuff for the sleeve or a smocked sleeve?" She looked up from her coloring and said, "Smocking! Smocking! Smocking!" I was pleased with that answer as well!
Now, I need to get out my Christmas fabrics and start on some holiday things. I have lots of fun ideas this year I can't wait to make.