Today I will show you a cute little diaper shirt and cover I made. I was inspired by these cute 1/4 inch buttons that Jan sent me. When an order is placed at
Bessie Mary
she sends with them little swatches of her beautiful fabrics. It's a nice way to see scale and exact colors of fabrics as well as the lovely hand these heirloom fabrics have. Sometimes in these little packages come needles, buttons or trims. Well, these wonderful aqua buttons came in mine one time. I received 5 of them. Just enough for a daygown, but I happen to have a gingham in my stash that was the exact match! How lucky is that?
Creations by Michie makes this cute little diaper set. I love the way the diaper cover buttons on the sides. The cute top has three views. I chose a view with puffed sleeves and it uses up three of my cute little buttons. I happen to have purchased white 1/4 inch buttons from Jan at an earlier time so they were in my stash waiting for this.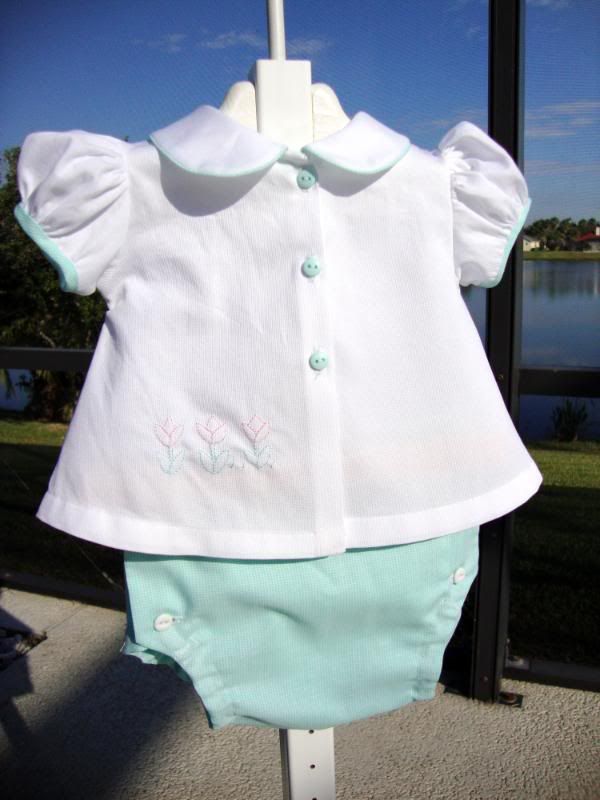 I love doing shadow work too. On this pique I decided on some tulips. Because my little one will be wearing this in the springtime I thought they just said spring.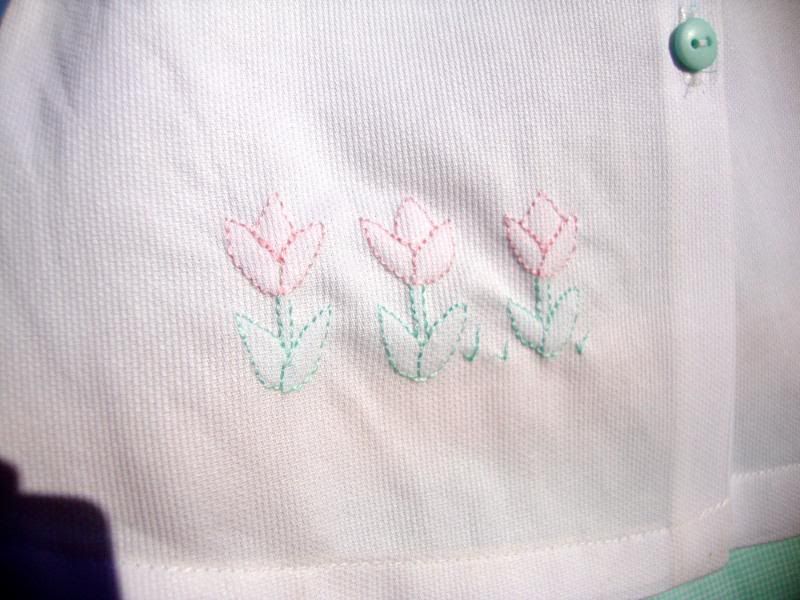 One of my favorite things about this pattern is that it will work if my baby is short or long. I love bubbles but I find that little ones outgrow them so quickly. With this cute outfit hopefully we can wear it longer. I made this outfit in a size 3 months just to be on the safe side. I can see more of these in my future. It went together really quickly and looks so sweet.
So, that is what inspired me to make this outfit. Sometimes it's a pattern that I just MUST make. Other times it is a beautiful or fun piece of fabric. What inspires you to make a certain project?